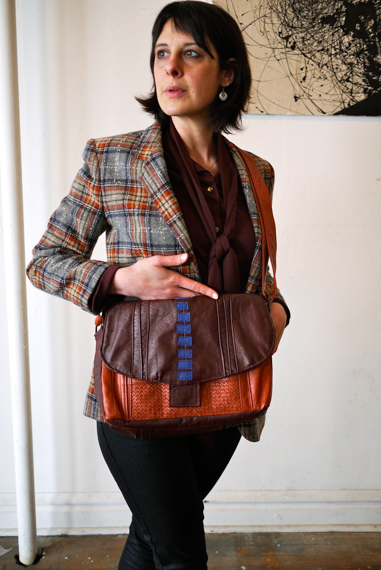 Backstitched Design is a one-woman textile design studio born from the love of sewing, 2nd-hand shopping, recycled materials, and repurposing.
The name Backstitched is a double entendre. Firstly, a 'backstitch' is a small stitch at the end of a line of sewing that locks the stitches into place. Secondly, 'backstitched' alludes to the past tense, the recycling and repurposing process of creating something new. These two meanings represent the commitment to durability and reinvention in my work.
I design and create one-of-a-kind leather bags, purses, accessories, and quilts. My work is inspired by mid-century and abstract art motifs, and I love using geometric and abstract patterns, as well as minimalist and stark color combinations.
I individually design and sew each piece from repurposed leather, recycled leather coats, durable clothing, and 2nd-hand textiles.
The active choice to not buy ready-made consumer goods can help us shape a more respectful and conscious lifestyle. We can carefully respond to the realities of environmental degradation and sweat shop labor by consciously choosing where and how we shop. This is the central reason why I choose to use repurposed leather and textiles over new fabrics.
Over 90% of my materials come from 2nd-hand clothing, thus every piece I make is rooted in an environmentally and socially sound choice. The individuality of my pieces stems from this conscious decision, creating a synthesis of history, character and life-story within each of my works.
Bags & Accessories:
I hope you enjoy browsing my bags and accessories. If you see anything you like, head over to my shop, and see what's currently available!
Backstitched Newsletter:
Be the first to receive my latest one-of-a-kind designs and delightful musings on leather and textiles, art, sustainability, and other akin topics by signing up for the Backstitched newsletter.
Wholesale & Boutique Owners:
If you're interested in carrying a selection of Backstitched Design bags in your shop, please contact me here.
Leather Quilts:
Alongside reclaimed leather bags, I also create leather scrap quilts. If you're interested in purchasing one of these pieces please contact me here.